Audio Restoration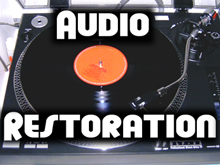 Old recordings can be digitised, cleaned-up, and restored to their former glory and in many cases, improved!
Restored material will be recorded as a Wav file or on to high grade CD-R with optional on-body print.
Crackles and clicks removed from vinyl records and 78's.
Hiss and rumble removed from cassettes and open reel tapes.

Here is a small selection of the processes on offer:
Hiss Reduction (our own custom digital NR system)
Remove Crackles, Clicks & Pops
Analogue Noise Reduction (B, C & S-types, also Dolby A for 1/4″ tape)
Equalisation / Filtering
Compression / Expansion
and MANY MORE!
We can also ENHANCE recordings to improve clarity, warmth, stereo separation and much much more…

Recordings can be transferred to CD from any of these formats:
Cassette (all noise reduction formats supported)
1/2″ tape (multi-track or 2 track)
1/4″ tape (various track formats and speeds up to 15ips)
Vinyl LP's & Singles.
78's
VHS Video tape (Hi-Fi and Linear Stereo)
We can also make high quality cassette copies to high grade cassette tape (various lengths)

IMPORTANT INFORMATION
Please check to make sure that the material you wish to transfer is not copyrighted or that you have obtained permission. In order to transfer, or make any restorations of copyrighted material, permission must be obtained from the copyright holder.