Equipment List
RECORDING STUDIO EQUIPMENT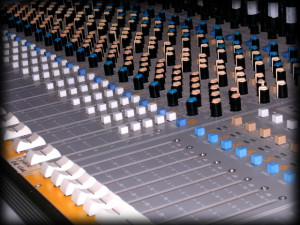 Desk:
SECK 1882, Vintage Analogue Mixing Console with in-line Monitoring, and (lovely & warm) semi-parametric EQ.
Digital Recording:
Custom built Audio PC, Dual-Screen, (recently upgraded)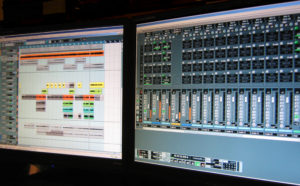 Multi-track recording using Nuendo with a vast range of High Quality dynamic & fx Plug-ins.
Other software includes: Audition, Wavelab, Reason and more…
2x M-Audio 1010 Digital Interface (24bit)
Also, a second custom-built PC for transfers, mastering, internet and additional specialist recording requirements. With Delta 1010 8in/8out interface.
Analogue Recording: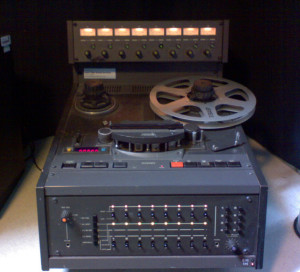 Otari MX5050 mkIII (8track, Classic half inch analogue tape machine)
Lovely warm sound!
Microphones:
We have a wide range of professional condenser & Dynamic microphones from:
Shure, Sennheiser, AKG, Audio Technika, BPM, Neumann and more…
Outboard and Effects: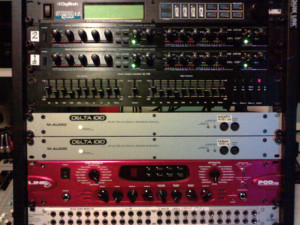 Digitech Studio Quad Multi-FX (literally hundreds of effects!)
2 x Alesis 3630 Dual Compressor / Gate
TLA Ivory 2 "5021" Dual Valve Compressor / Gate
Line6 Pod Pro Guitar Processor
Ashdown Analogue Bass Guitar Pre-Amp
ART Tube Compressor/Limiter
ART Tube pre-amp, DI, balancing/unbalancing unit.
Various Software based Plug-in Processors (far too many to list, & all of the highest quality!)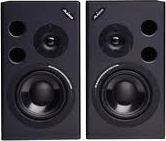 Monitoring:
Alesis M1 Active Mk2
Beyer DT-100 Headphones
Superlux HD660 Monitor Headphones
KEF monitors
Other: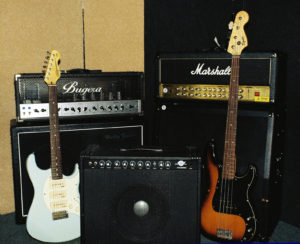 Vintage Premier Drum Kit (cymbals & sticks not supplied)
Marshall AVT150 Valve Guitar Amp Head with 4 speaker Marshall cab
Customised Guitar Amp (with spring reverb)
Bugera (all valve/tube) Guitar Amp head and cab
All available to use for free as part of your booking
FOR MASTERING EQUIPMENT PLEASE VISIT OUT MASTERING PAGE